PG SERIES MOORING
Polyguard Dock Moldings are designed to make your dock safe and mooring easy. The dock's edge is a trouble area and any chop or surge can be dangerous for you and your watercraft. Protect your dock and smaller to medium size boats, dinghys, kayaks, and jet skis from mooring damage.

Polyguard Dock Moldings are made from a special blend of PVC. Durable, UV Resistant and, unlike polyurethane foams, resistant to permeation of algae and marine life, Polyguard Dock Moldings are easy, low cost, protection for your watercraft investment.
IMAGES OF ACTUAL COLORS MAY VARY
Despite every effort to accurately depict each product's color when reproduced, color differences may arise from color monitors and print capabilities. The screen images are intended as a guide only and should not be regarded as absolutely correct.
SKU

UPC
PG Series Features
Choose from 6-foot and 10-foot extrusions
Reinforcement ribs for added strength and protection for your boat and dock
Easy mounting
Formulated to stay soft and resist UV breakdown
PG Series On-line Stores
Clicking on the following links will take you away from the Polyform website
Polyguard Dock Moldings Chart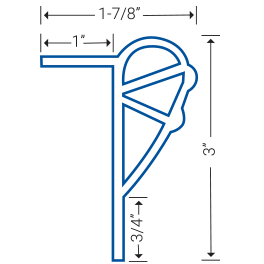 Polyguard Dock Moldings Metric Size Chart
| Model | PG-3 | PG-4 |
| --- | --- | --- |
| Size | 7.62 cm. x 3.048 m. Extrusion | 8.255 cm. x 1.829 m. Extrusion |
| Color | White | White |
| Pieces per Carton | 10 | 8 |
Polyguard Dock Moldings US Size Chart
| Model | PG-3 | PG-4 |
| --- | --- | --- |
| Size | 3 in. x 10 ft. Extrusion | 3.25 in. x 6 ft. Extrusion |
| Color | White | White |
| Pieces per Carton | 10 | 8 |